This recipe is adapted from The 21 Day Sugar Detox. Initially, I made it because there were only five ingredients. FIVE!! That falls right in line with some of my goofy rules about new recipes. The original calls for 4 cups of shredded parsnips. I switched to rutabagas because 1) the parsnips were too sweet, even for the sugar lover's taste, 2) they didn't soften as easily, and 3) it didn't make enough. I also used dried Italian seasoning from a jar, rather than mix my own. It has a few more herbs and, if you recall, I have a thing about recipes within recipes. Sorry, but a handful of herbs isn't quite worth it to me. Finally, I bumped up the amount of bacon, since I more than doubled the amount of shredded rutabaga. Recipe first, step-by-step follows.
Without further ado…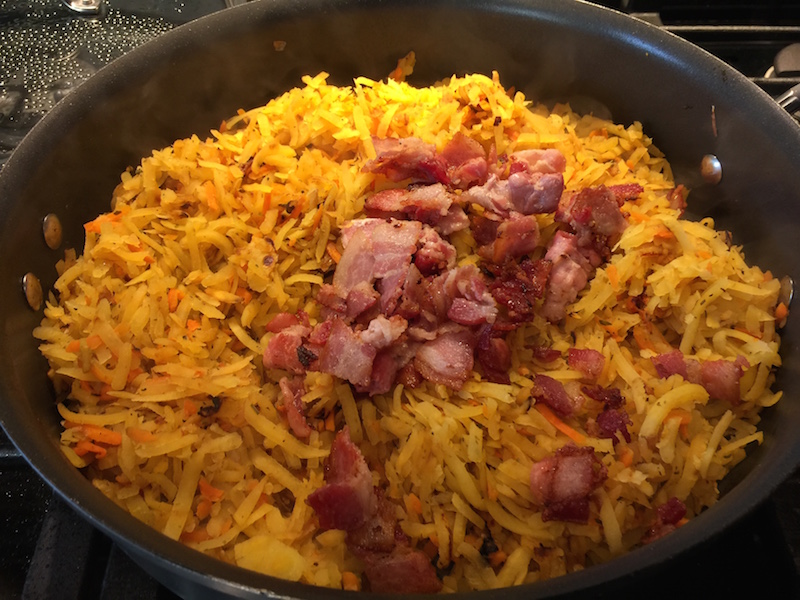 Bacon & Rutabaga Hash
2015-06-27 14:07:52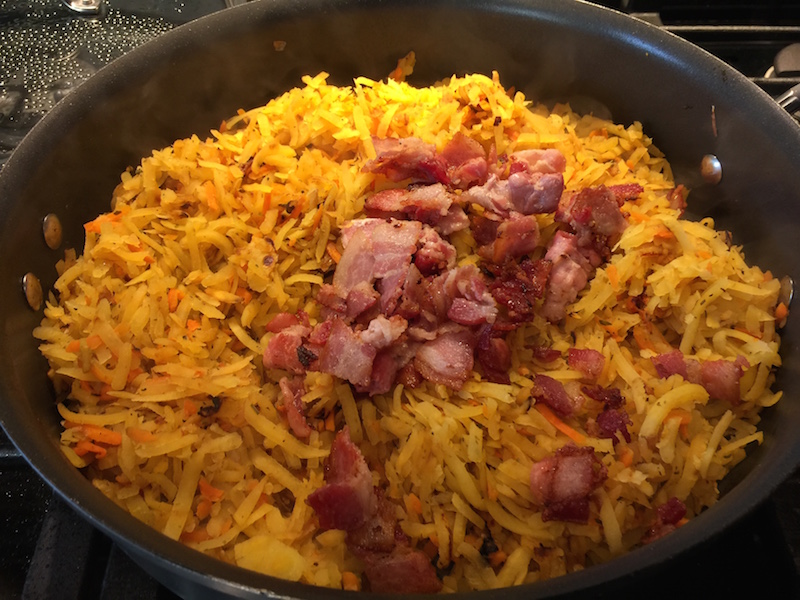 Serves 8
Breakfast, lunch, or dinner hash so good you won't care that it isn't potatoes.
Ingredients
8 slices nitrate-free, hormone-free, hickory smoked bacon
1 large or 2 medium shallots, minced
10 to 12 cups grated rutabaga (just grate them until you've filled your processor bowl, I used 2 very large rutabaga) (about 2 to 2½ pounds)
1 carrot, grated
1 tablespoon dried Italian seasoning
Instructions
Slice the bacon crosswise into 1/4" pieces. Cook them in a large skillet over medium heat. When the bacon is brown and rendered, remove the bacon with a slotted spoon and drain on a paper towel. Leave the bacon fat in the pan.
Add the shallot and cook until translucent.
Add the rutabaga and carrots a little at a time, if necessary, and stir to mix with the shallots and bacon fat.
Stir in the Italian herbs.
Cook the vegetables 10 to 15 minutes, or until the rutabaga is soft enough for your taste. A lid will make it go a little quicker as it steams it just a bit.
Add the bacon to the pan, stir, and heat through.
Serve with eggs, sausage, crustless quiche, or anything else your heart desires!
Notes
You will definitely have leftovers, but the rutabaga cooks down quite a bit without watering anything down.
Adapted from The 21 Day Sugar Detox
Adapted from The 21 Day Sugar Detox
Fruit-Free Nut http://fruitfreenut.com/
Tips:
Food processor. Use it! I actually don't mind grating things by hand on my box grater. Is that weird, or what? But with something like this, just use your processor. It goes so much quicker and is less messy.
Skillet. Make sure it's super large. If you don't have a 12″ skillet, use a dutch oven. Who cares what kind it is, as long as it will hold that much shredded rutabaga.
Cook time. Let it cook down until you are happy with the texture. Taste it, season it, pull it off the heat and plate it when you're happy.
Bacon. Don't be afraid of the bacon.
Step-by-Step:
Fill your processor bowl with rutabagas, then shred the carrots right on top.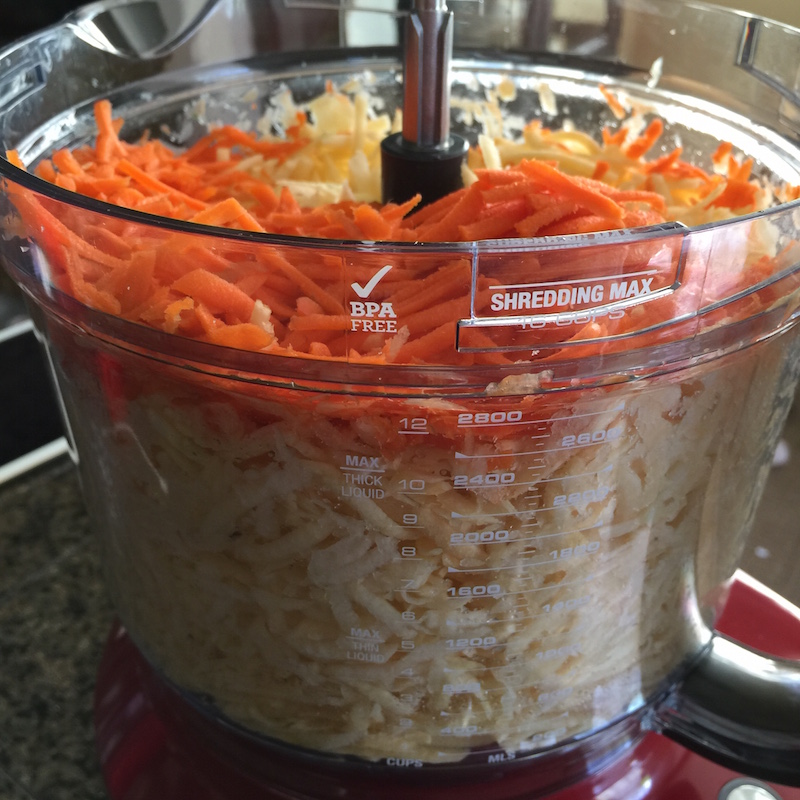 Cook the bacon and remove with a slotted spoon. Let it sit on a paper towel-lined plate. Sauté the shallots in the bacon fat.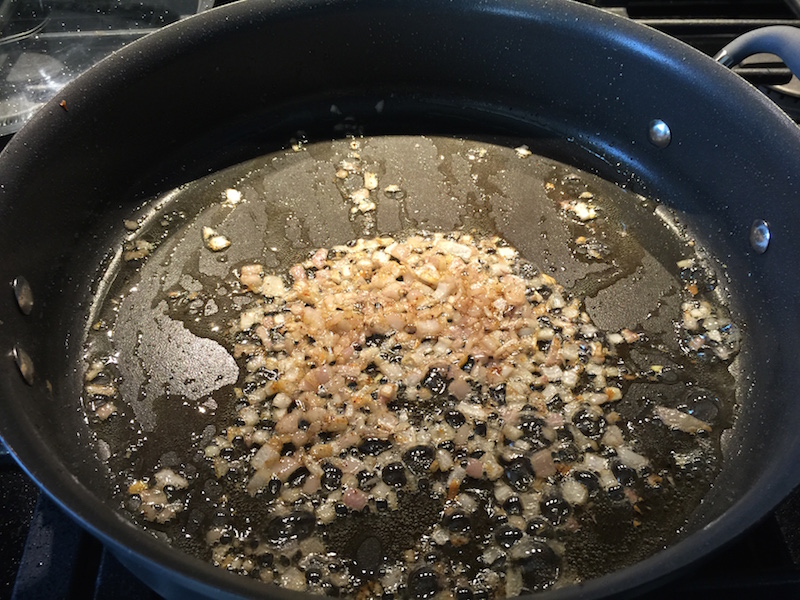 When the shallots are translucent, add the rutababas, carrots, and Italian seasoning. This is where having a large skillet pays off. If you don't have one large enough with a lid, use a dutch oven.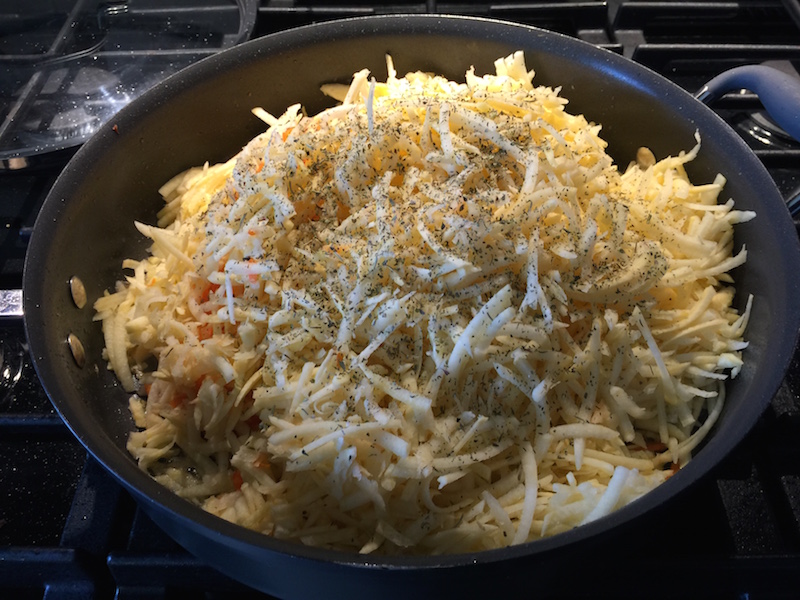 The rutabagas will suck up all the moisture and bacon fat, and will brown on the bottom. Stirring occasionally will prevent burning. They cook down quite a bit.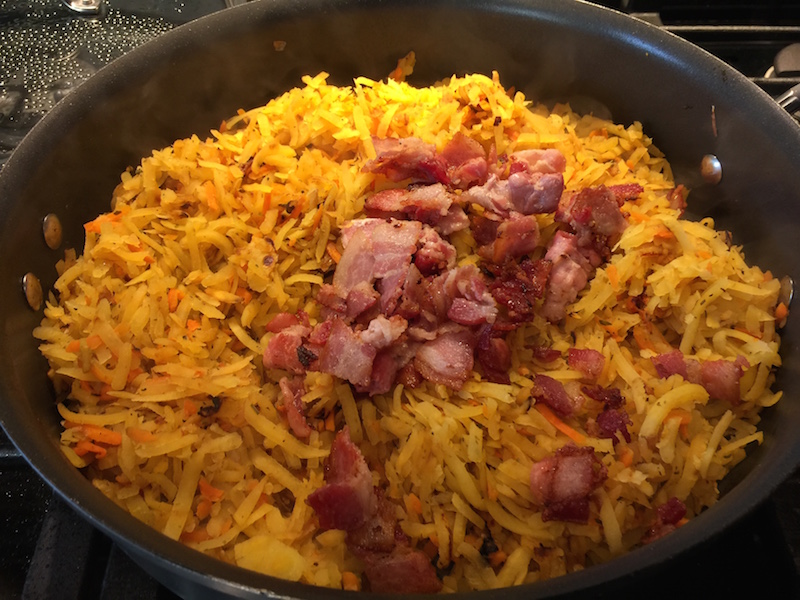 After 10 to 15 minutes, add the bacon back in and heat through.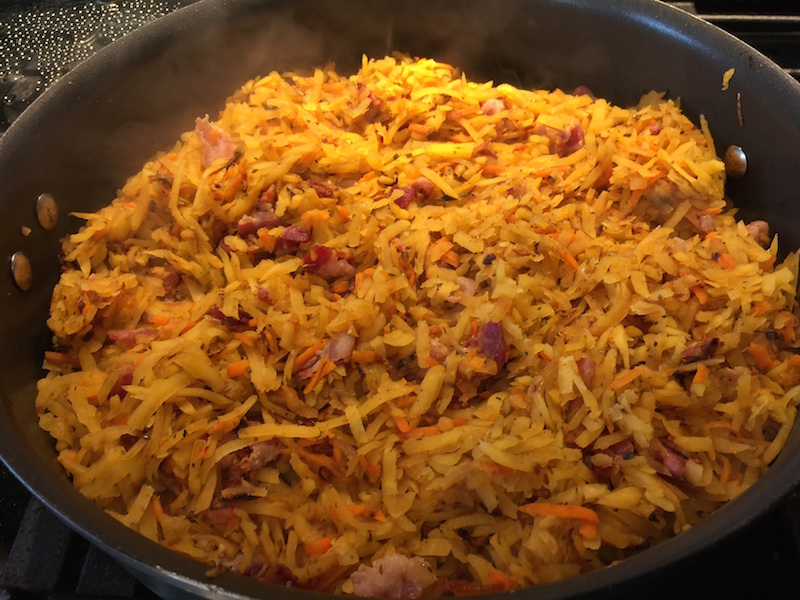 Delish!