I really love smoothies. But dang, do they all have to have fruit in them? Or be a really bizarre shade of green? Or—worse—brown?
Turns out that no, they do not. Wahoo!
Fruit is a great source of natural sugars and carbohydrates and fiber. I know, I know. People are still terrified of carbohydrates. But did you know you need those buggers to make your brain work? But we fruities legitimately can't have fruit, which means we aren't getting the benefits everyone else does. And let's be honest: our bodies are fruit intolerant. Our systems don't know what the hell to do with it to begin with, which means that even if we ate three pounds of fruit every day we still wouldn't be getting those benefits. So how do we get more natural sugars and carbohydrates and fiber?
Dr. Neale, my Naturopath, is also working with my husband on his food intolerance issues which, of course, are different from mine. I was with him for one of his appointments and she told us how to make these smoothies that were similar in every way, except what gave it color and sweetness. We both have a carrot, but he gets strawberries (brat!). I get a beet.
Nice.
Raise your hand if, as a kid, you were forced to endure those nasty things that came out of a can and fell apart into rings. They were slimy and smelled like mud. Worse than mud. Is there anything worse? And then some crazy canned-beet lover would call it "earthy." Disgusting!
In my early 40s I decided to try again, and I'm glad I did. My husband had taken me to a fancy schmancy restaurant, and the appetizer had roasted golden beets with a vanilla butter sauce on them around the outside edge of the plate. A garnish of sorts. Hello, beets!! Turns out, if you have them fresh (or pretty close to fresh) and they are properly roasted, they can be quite delicioso. Yeah, you get a bite that's a teeny bit "earthy" now and then, but absolutely nothing compared to the crap in a can.
This smoothie is not only fruit-free, it is dairy-free, and I swear you won't know the difference. My picky, picky husband had no clue. His eyes got all kinds of big and he said, "Holy cow! This is just like a milkshake!"
Would I rather have strawberries or raspberries in my smoothie? You bet. But, as much as I'd prefer it, I can't. Will you walk around extoling the virtues of a smoothie with beets over strawberries? Nope. But I'm telling you, this is pretty darned good, tasty enough that I drink one every morning.
All we are saying is give beets a chance. Hoo ha! Did you laugh just then? I did. John Lennon must be spinning so hard in his grave right about now! Point is, if I can convert, so can you.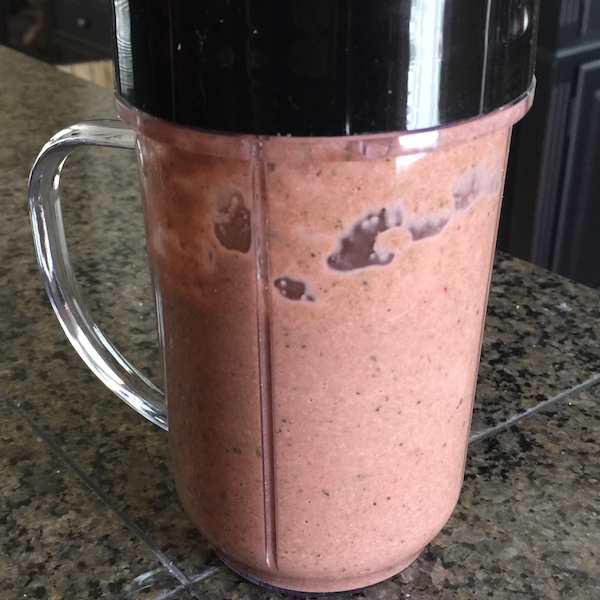 Dr. Neale's Pink Power Smoothie
2015-04-10 12:36:31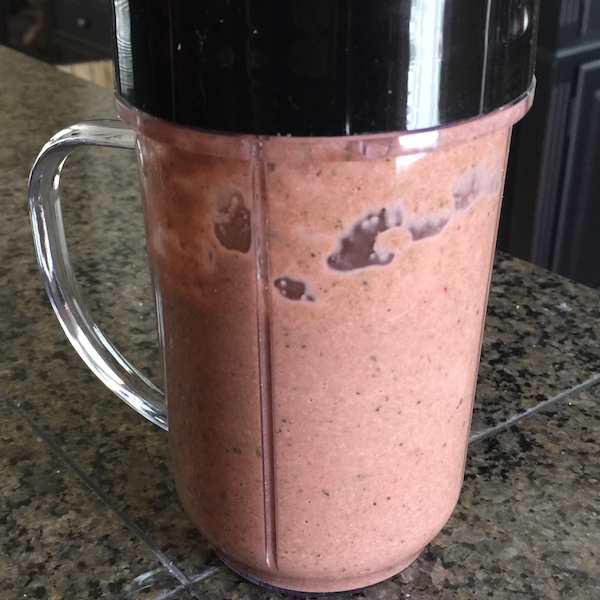 Ingredients
Handful of whole, organic almonds;
Handful of flax seeds;
1 whole carrot
1 pre-steamed and peeled baby beet (frozen)
Handful of frozen, chopped baby greens
Water
Optional: up to a tablespoon of organic maple syrup
In a Magic Bullet or Vitamix (whatever type of blender you have or prefer):
Grind almonds.
Add flax seeds and grind.
Wash, but don't peel, the carrot. Cut the ends off, then cut the carrot into 2-inch or 3-inch pieces, whatever makes it easy to fit it into your blender. Drop into the blender and whiz it around until it's not big chunks anymore.
Drop in the beet, the handful of frozen baby greens; Wait until after the next step to blend.
Fill the blender with just enough water to just cover everything.
Add maple syrup, if using.
Blend until it's as smooth as you can get it, and serve!
Fruit-Free Nut http://fruitfreenut.com/
Let's break this down, shall we?
Handful
I say get enough in your hand so it fills your palm but you can still close your fingers around it. This is the least scientific thing you'll ever read, so please don't take it as the gospel, but I have large hands. I was initially worried that I was getting too much because my hands are bigger. I know. I have issues. But I'm also 5′ 9″, and not a small woman. I figure the size of your own hands are meant to tell you how much you should have. So if you're smaller and have smaller hands, you might not get as much smoothie as I do, but it will be right for you. If you're 6′ 4″ and have big ol' paws, your smoothie will be a bit bigger, and that will be right for you and your body. Again, I'm not a doctor, this is just how I wrap my head around things to quit worrying about what is probably a non-issue to begin with.
Nuts
Nuts have oils in them, we probably all know that. But oil can go rancid, which means your nuts can spoil. Dr. Neale suggested keeping them in the freezer. I bought them in bulk at Chuck's and keep them in the freezer. I haven't checked, but I'm sure you can probably get them at Natural Grocers. There's a refrigerated section in the back left corner (at least at the one in Hazel Dell) where you'll find all sorts of things like almond flour and walnuts and trailmixes already pre-bagged. I'd look for whole almonds and flax seeds there.
At Chuck's I had a choice between golden flax seeds and another one that was darker. Since I (1) had no idea there was more than one type of flax seeds and (2) I've only ever seen the lighter ones, I got the golden ones. I was also a little concerned about the color of my smoothie with the darker seeds. But get what you want!
Also, don't worry about all of your almonds being frozen. Believe it or not, you can eat a handful of them straight from the freezer. They are crunchy as hell and super satisfying!
Beets
Dr. Neale suggested I get the kind that are pre-steamed and already peeled. I bought mine at Trader Joe's for $1.99 a package, but I also happen to know you can get them at Costco. If I'm not mistaken, Safeway also has some, but I can't recall if they are pre-chopped or not, and having them whole is a lot easier for this recipe. Also, I don't know if the ones from Safeway have added preservatives or not, so if you get them there, double check, because quite often preservative = citric acid.
When you get your beets home, open the package over the sink—they're juicy!—and put them in a Ziploc bag, then toss them in the freezer. If, like me, you are still a teeny bit put off by the smell of beets, you will be put off by the smell when you open the package. Please trust me when I say that freezing them somehow makes the smell much more palatable. It gets sweeter. No kidding. Also, freezing them will make your smoothie colder and a bit frosty, so you don't have to worry about adding ice.
As a side note, I experimented with how many beets to use. Dr. Neale had said I could chop them and then throw in a handful, like everything else. Remember when I said I have big hands? Well, the whole package fits in my hand. The first time I made a smoothie I used the entire package. Holy no way, Batman! Just no! So I emailed and mentioned this. She said just use one or two, and adjust to taste. I used two for the next batch, and it was still a bit much for me. If you are a big beet lover to begin with, feel free to use two or even three! But one is the perfect number for me, especially since some are bigger than others.
I should also mention that when I made this in my big Vitamix the beet blended completely, but my Magic Bullet leaves a little nub of beet about the size of a small marble. No worries. Eat it or toss it. I should probably eat it, though.
Smoothie Making Time!
Here's what a handful of almonds looks like for me:
They will not pulverize into a fine powder initially. That's okay. Also, you'll want give the cap/blade end of the Magic Bullet a tap (or the Vitamix lid) before opening. A lot of the stuff wants to hang out under the blades, so when you take that off to add the next thing you might have a little to clean off your counter.
Here's a handful of flax seeds for me:
Add these in and whiz it around. I'm not sure why, but it seems to help pulverize the almonds a little finer.
Add your carrot and go. I'm not going to lie: I ran out of carrots, so I used some organic, pre-shredded ones instead. Please. If you can, use a real carrot, instead. With the shredded ones it's a little tougher to guess how much to use, and, even organic, it's still processed in some way. If, however, you should find yourself using pre-shredded, don't bother blending it just with the nuts. It doesn't really do much. Blend it with everything else in the last step.
Drop in your frozen beet (but don't blend yet):
This is what a handful of frozen, chopped baby kale looks like for me:
Add water to just cover it. My rule of thumb is to do a recipe the way it is written the first time, then decide how you want to adjust it. You may want to use less water to have it thicker, or add more to thin it out and feel like you're drinking a little more. Regardless, it needs some water to help it actually blend and to make it drinkable. If you are going to add any maple syrup, now is the best time to do it. You might want to try it without first, just to see if you need it. If you're a big beet lover to begin with, it might not be necessary. You don't have to use a full tablespoon, but I wouldn't use more. I tried. You'll have to trust me when I say it's way too sweet.
If you're using a Magic Bullet, shake that bad boy a little to get all the goodies in the water before you blend it. When I wrote "shake" I thought, "Shaken, not stirred." Oh, Mr. Bond!
And now I have Outkast stuck in my head. Shake it! Shake, shake it! Shake it like a Polaroid picture!
Now blend that bad boy!!
PS…
To prove I have moved well beyond my hatred of beets, here's a picture of my latest tattoo. I'm a writer and lover of great books. One of my favorite books is Jitterbug Perfume, by Tom Robbins. Both the first and last chapters are devoted to the lovely, deep red beet. It's almost a character in it's own right: beets are mentioned in nearly every chapter, if not all of them.